Description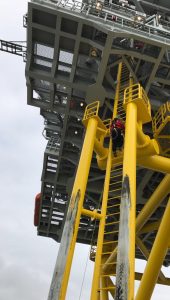 GWO BASIC SAFETY TRAINING – REFRESHER PACKAGE
The  GWO Basic Safety Training Refresher (BSTR) provides Delegates with, reviews and builds on a range of important skills and tools obtained during the GWO basic safety training courses, which include Fire Awareness, First Aid, Working at Heights and Manual Handling and  GWO Sea Survival training.
WHO IS THE COURSE SUITABLE FOR?
Anyone looking to refresh their certificates to continue working in the offshore renewable energy industry. Everyone is expected to hold a valid, in date GWO BST certificate which must be refreshed every 2 years.
COURSE TIMES
9am – 5pm Monday – Wednesday or Tuesday to Thursday
Lunch included
This consists of all 5 GWO Basic safety training course modules taken as one Package over 3 Days.
GWO Working at height with GWO Manual Handling – 1 Day
GWO Sea Survival – 1  Day
GWO Fire Awareness – 1/2 Day
GWO First Aid – 1/2 Day
PRE-REQUISITES
It is the responsibility of the delegate to ensure they meet all the pre-requisites and provide documented evidence to that effect PRIOR to course commencement. Failure to do so could result in forfeit of all costs and course attendance.
In-Date GWO Certificates
WINDA I.D
Over 18
Passport or Driver's License
Swim Wear and Towel
Work Boots
Medical
GWO WINDA DATABASE
All delegates sitting the GWO courses must now register onto the GWO WINDA database, for further information about GWO's WINDA Database please click here. ABOUT WINDA
To register onto the WINDA Database CLICK HERE
CERTIFICATION
On successful completion of the GWO BSTR training, you will receive certificates on all 5 course modules valid for 2 years, this is uploaded onto your WINDA Account within 10 days of course completion. A pdf version of your WINDA GWO Certificate will also be emailed out to you.
N.B YOUR CURRENT GWO CERTIFICATES MUST BE IN DATE AT THE TIME OF SITTING YOUR REFRESHER COURSE