IRATA Level 3 Training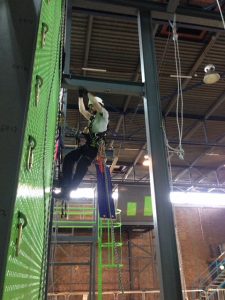 COURSE TIMES 8AM – 5PM
MONDAY – FRIDAY
The IRATA Level 3 rope access technicians will have responsibility for site supervision during rope access works, projects and be able to demonstrate safe systems of work.  Level 3 rope access technicians will be responsible for leading their team safely throughout.
WHO IS THIS COURSE SUITABLE FOR?
IRATA Level 2 technicians with at least 1000 hours and a minimum of 12 months work experience at a level 2 – certificate must be in date at the time of assessment to be able to level up.
IRATA Level 3 who needs to revalidate their current certificate
AT THE END OF THIS COURSE WILL BE ABLE TO DEMONSTRATE
A capability of site supervision for rope access work projects
Being conversant with relevant work techniques and legislation;
All the skills and knowledge required of levels 1 and 2
A comprehensive knowledge of advanced rescue techniques
Knowledge of the IRATA certification scheme
Knowledge of the IRATA Training, Assessment and Certification Scheme;
Familiarity with the contents of the IRATA ICOP.
ASSESSMENT
You will be formerly assessed by an independent assessor on day 5 of your course, further training may be advised if not meeting the required standard.
CERTIFICATION
On Successful completion of your course assessment, you will receive temporary results of competence from your assessor. Your details will then be uploaded onto the IRATA website and an official certificate, and a card will be sent to you separately.  Valid for 3 years.
PRE-REQUISITES
Minimum -18 years of age
IRATA Log Book
1000 hours and a minimum of 12 months of correctly logged work experience
You should be physically fit and unaffected by any disability or medical condition that may prevent you from working safely. Ensure that you have an adequate level of fitness, are physically able to perform the tasks expected in terms of strength, agility and coordination, and are able to withstand the stresses of the working (training) environment, such as heat, cold, and other inclement weather.
You are required to certify that you are fit to attend the course by completing a medical self-assessment form and a statement of medical condition.
If you have a contra-indicated condition which is controlled with medication, you will need to bring a signed doctor's note to show us that the condition will not prevent you from taking part.
I.D – Passport, Drivers License
hold an appropriate current first aid certificate, to show that suitable emergency first aid training has been undertaken;
---
Showing the single result